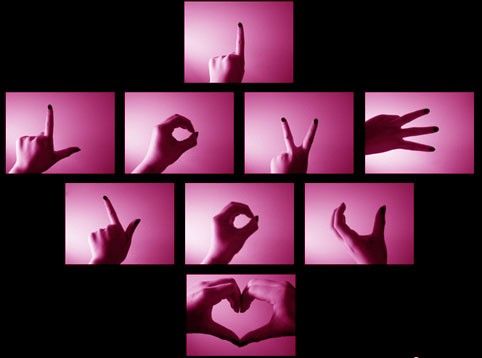 Ecco le migliori frasi d'amore in inglese con traduzione per un amore internazionale, sì perché con una frase breve e romantica possiamo dire molto e fare una dichiarazione davvero speciale. Ma se il nostro lui fosse straniero? Niente paura, l'inglese anche come sonorità si presta benissimo e di frasi d'amore ne abbiamo trovate a decine tutte per voi e per la vostra dichiarazione specialmente internazionale. I love you? No, molto di più, ecco alcune idee di frasi romantiche in inglese, alcune celebri, altre no, per un partner straniero.
Stop breathing if I don't see you anymore…
Mi si ferma il respiro se non ti vedo ancora
I love you cos you're my life
Ti amo perché sei la mia vita
You have touched my soul
Hai toccato la mia anima
I can't live without you
Non posso vivere senza di te
You're the best thing i have ever had
Sei la migliore cosa che mi sia successa
You're the only one for me
Sei l'unico per me
We are two souls that share the same truth and love
Siamo due anime che condividono la stessa verità e lo stesso amore
All that i want is to touch you,to fell you…to love you..
Tutto ciò che voglio è toccarti, sentirti e amarti
I miss You
Mi manchi
I can't stop thinking about You
Non posso smettere di pensarti
You're my everything
Sei tutto per me
Dedicated to you my sun, my love
Dedicato a te mio sole, mio amore
Don't leave me, just love me
Non lasciarmi, amami invece
You're my soul mate!
Sei la mia anima gemella!
I miss You like the air that i breathe
Mi manchi come l'aria che respiro
I think only to you
Penso solo a te
Please do not forget me!
Per favore non dimenticarmi!
Love is all you need
L'amore è tutto ciò che conta
You're the love of my life
Sei l'amore della mia vita
Frasi d'amore classiche in inglese: le più belle
Le seguenti frasi romantiche sono alcune delle più classiche espressioni in inglese, che possono essere utilizzate anche per i tattoo romantici.
I'm falling in love with You
Mi sto innamorando di te
Kiss me
Baciami
I love you
Ti amo
I'm keen on you
Mi piaci
I will love you always
Ti amerò sempre
I want you
Ti voglio
You are my whole life
Sei tutta la mia vita
You're mine
Sei mio
Frasi d'amore in inglese: le canzoni
Le canzoni romantiche sono piene di frasi d'amore in inglese per dediche a distanza o per il buongiorno e la buonanotte. Ecco le più belle.
However far away I will always love you, however long I stay I will always love you, whatever words I say I will always love you.
Ti amerò sempre Anche se resterò via a lungo Ti amerò sempre Qualsiasi cosa io dica Ti amerò sempre Ti amerò sempre
(Lovesong , The Cure)
I'd miss you baby and I don't want to miss a thing, cause even when I dream of you, the sweetest dream will never do
Ti perderei, baby E io non voglio perdere niente. Perché anche quando sogno te, il più dolce sogno non sarebbe uguale
(I Don't Wanna Miss A Thing, Aerosmith)
I'm blinded, 'cause you are everything I see
Sono cieco, perché tu sei l'unica cosa che vedo
(One Direction, More than this)
I would fight for you, I'd lie for you, walk the wire for you, ya I'd die for you, ya know it's true, everything I do, I do it for you
Combatterò per te, mentirò per te, camminerò sul filo, sì morirò per te, sì tu sai che è vero che ogni cosa che faccio, la faccio per te.
(Everything I Do (I Do It For You), Bryan Adams)
Frasi d'amore in inglese: le poesie
E anche le poesie in inglese si rivelano fonte di ispirazione da cui estrappolare frasi celebri per dediche romantiche. Ecco le più belle.
A path winding across the horizon over mountains, across seas through blue skies and gray never ceasing, continuous.
My love for you.
Un percorso tortuoso attraverso l'orizzonte, oltre le montagne, attraverso i mari, attraverso il cielo blu e grigio, senza mai smettere, continua. Il mio amore per te
(A.J. Miller)
I love you today, I'll love you tomorrow, I'll love you forever
Ti amo oggi, Ti amerò domani, Per sempre t'amerò
(Julio Patino)
So often when I am embracing you, it seems that you exist in this world, only because of me and I exist because of you.
Molte volte mentre ti abbraccio mi sembra che tu esista in questo mondo solo perché esisto io e io esista solo perché ci esisti tu
(My Sweetheart, Jonathan Townsend)